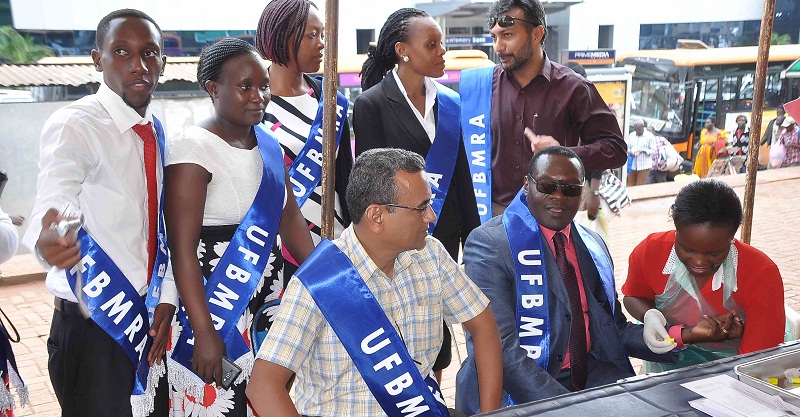 The forex bureau business has been in existence since the late 1980's until the liberation of the economy. Within that time span, many bureaus sprung up and were working independently. By then the industry had a challenge with its image as there was a lot of fraud, corruption and the 'Bicupuli' had affected the industry. A research was carried on by one of the founders (Mr. Mwanje Stephen) on networking and social capital in forex business and as a result discovered that we benefit and earn more by working together as forex bureau through sharing information among other things.

In July 1999, at one of the meeting convened by Bank of Uganda-one of the series of meetings they organized for training purposes- the idea of starting up an Association for forex bureau operators was sought by one of the founders. Luckily amidst some challenges, the team from Bank of Uganda bought it up with the then director (of TEDD), Dr Muwanga Zake with Members who had subscribed for the initial set up worked voluntarily and willingly for this industry to rise. Uganda has witnessed a transition in the forex industry since the evolution of the first forex bureaus in the late 1980s, at a membership of less than 60 bureaus grown to over 240 as of date.
Before the formation of UFBMRA, there was no basic forum or legal binding under which members could discuss and share their views and complaints.
Formation of UFBMRA;
UFBMRA was formed and registered and officially inaugurated on 27 January 2001 by the Governor of Bank of Uganda with a primary objective aligned to; public policy advocacy, good governance, information sharing, and self-regulating strategies that promote best practices in offering financial services amidst dynamic regulatory framework to serve the public, private sector in Uganda and beyond. And further in 2002, UFBMRA launched the forex trading Code of Conduct which was intended to guide forex bureau in ensuring professionalism, high ethical standards and fair play while carrying out business.
The Association later changed its name from Uganda Forex Bureau Association (UFBA) to the current Uganda Forex Bureau and Money Remittance Association (UFBMRA) in 2006, after the Foreign Exchange Act that allowed forex bureaus to be licensed to transfer money was enacted. All forex bureaus and money remittances are members of the UFBMRA and are licensed and registered by Bank of Uganda.
UFBMRA PAST CHAIRMAN & SECRETARY
YEAR

CHAIRMAN

SECRETARY

2016/2018

MR. PHILIP MIKE KATAMBA

MR. CHANGANI NANIKRAM

2014/2016

MR. LAMECH KIIZA

MR. CHANGANI NANIKRAM

2012/2014

MR. LAMECH KIIZA

MR SHAMIR HUSEIN MANJI

2010/2012

MR. STEPHEN MWANJE

MR. JACKSON MWESIGYE

2008/2010

MR. STEPHEN MWANJE

MRS. JYOTI DAMANI

2004/2006

THE LATE MR. HERBERT WAMALA

MR. ASIM MORVI

1999/2004

MR. STEPHEN MWANJE

MR. AHMED TEJANI

(LLOYDS FOREX BUREAU LTD)
FOUNDER MEMBERS
MR. AHMED TEJANI

LLOYDS FOREX BUREAU LTD

MANAGING DIRECTOR

MR. STEPHEN MWANJE

BM FOREX BUREAU LTD

MANAGING DIRECTOR

MR. MOHAMEDRAZA G. MANJI

HYDERY FOREX BUREAU LTD

MANAGING DIRECTOR

HAJJ. MUHAMOUD SSEKIMPI

PRIME FOREX BUREAU LTD

MANAGING DIRECTOR

THE LATE HERBERT WAMALA

CITY FOREX BUREAU LTD

MANAGING DIRECTOR

MPAGI BINTUBIZIBU

BM FOREX BUREAU LTD

MANAGING DIRECTOR

MR. HAIDER G. DAUDANI

NOW MANAGING DIRECTOR ABC CAPITAL BANK